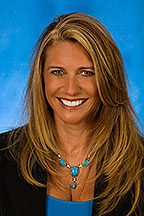 Tricia Kanbar Lowery – President
With more than fifteen years of experience in building marketing and public relations plans that make a difference, Tricia Kanbar Lowery is Noble Communications' Founder and President. Her expertise in planning and implementing special events and public relations campaigns has brought her clients nationwide media exposure and sales.
Lowery specializes in integrating high-profile and effective marketing plan development and execution into an overall communications strategy. This consists of marketing and advertising analysis, special event implementation, direction for advertising collateral and public relations planning and implementation. Her ability to produce effective marketing strategies that garner wide media attention among a client's target market has helped clients to increase sales and exposure.
She has produced marketing plans for clients of varying sizes, such as The National Multiple Sclerosis Society, Perkins Restaurants on the East Coast, Legends In Concert, Orlando Entertains, 55 West on the Esplanade, Olde Town Brokers, Monarch, The Law Firm of K. Scott Schelgel, P.A., Gameday Management Group, ClickandPark, Central Florida Zoological Park, the City of Altamonte Springs, Stiles Construction Company and ISIS.
She is a Boston native, and graduated from Flagler College with a bachelor's degree in Communications. Lowery is an active community member, serving on the as president for the Orlando chapter of the Public Relations Society of America in 2002, as a member of the public relations committee for the Orange County Convention and Visitors Bureau, board member of the Orlando Advertising Federation, board member for the Downtown Orlando Partnership and the Orlando Advertising Federation-District Addy Public Relations Chair. Lowery has also certified her firm as a WBE for The City of Orlando and Broward County Schools as well as an Emerging Business for the 2010 Super Bowl.
Noble Communications
Noble Communications was founded in August 2003, by Tricia Kanbar Lowery, to serve clients who value industry experience, strategic thinking and proven solutions. Our team of marketing professionals have over thirty years of combined experience. We have worked in the tourism, hospitality, construction, non-profit, retail, legal,residential and commercial real estate, as well as restaurant industries. Our breadth of experience ranges from special events for nationally recognized companies to Web development for commercial real estate organizations to press releases for small law firms. We have an extensive background in marketing, graphic design, Web development and public relations for a wide variety of clients and are confident that we can meet your public relations and marketing needs. In addition, we are certified with The City of Orlando and Broward County Schools as a WBE as well as an Emerging Business for the 2010 Super Bowl. Our achievements have garnered local and nationwide exposure as well as increased sales and profit for our clients.
Some of our achievements are as follows:
Secured more than $80,000, 1:1, of added value radio exposure for Perkins Restaurant & Bakery and made them the official Small Town tour location for Magic 107.7FM's event.
Hired to create a positive public relations campaign for 55 West on the Esplanade, after sales fell to 20% hard contract in spring of 2004. Noble created an entire marketing and branding campaign which was inclusive of public relations, marketing strategies, design, community relations, events and web development. These tactics took sales from 20% to 85% hard contract within 8 months.
Landed Monarch positive media coverage throughout the Orlando market including articles on the front page of the Orlando Sentinel and Orlando Business Journal and various trade magazines, as well as several spots on television stations, saving over $115,000 in advertising costs.
In two months, Noble obtained ISIS positive media coverage in the local market including articles in the Orlando Business Journal, Orlando Sentinel, Florida Real Estate Journal and Oviedo Voice.
Secured local front page exposure in the Orlando Business Journal on entrepreneur, Tony Vitrano, founder and president of Gameday Management Group and Click and Park, as well as achieved nationwide media exposure on their involvement in the Super Bowl.
Spurred the creation of Orlando's Top Real Estate Agents that is now published annually in Orlando Magazine.
Developed and executed the Zoo's first television and radio sponsorship valued in-kind over $50,000. In addition, achieved nationwide media exposure for the naming of two baby cubs.
Secured over $100,000 of local radio advertising through cross-promotional partnerships for Orlando Entertains.